Cast church bells
We have been installing and maintaining cast bells for churches and public buildings since the early 1950s. For new installations, we source only the finest bells, made with genuine bell metal - not all bells are alike! We work with you to safeguard not only your bells, but also your bell towers; preserving your investment and your history.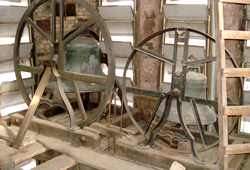 Before
Rope pulled bells are fine, but "dangerous" ringing can break the bells and cause expensive tower deterioration.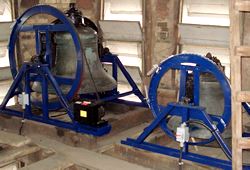 After
Electrifying the ringing with microprocessor control, gives you dependable consistency of a professional bell ringer. This arrests further damage to maintain the heritage of the cast bells and tower for future generations to enjoy.
Cast bell services
Swinging bells, Ringing bells, Chimes and Carillons
Rope pull, clavier, and electrified ringing mechanisms
Maintenance (for all makes and models)
Architectural consultations
Appraisals
Emergency service
Factory trained custom installations
Wireless remote control
Factory precision tuning
Guaranteed workmanship